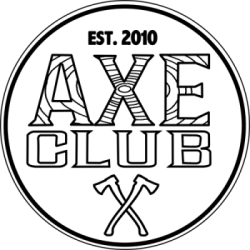 Axe Club started throwing axes in 2010 and have been leading the way in providing axe throwing events in and around Dublin. Its a gender neutral sport that suitable for all ages (16+), all fitness levels and all types of people.
We are located in Central Dublin and Wicklow and offer Urban Axe Throwing with Hatchets in line with the World Axe Throwing League and Woodland Axe throwing where we combine axe throwing with Bushcraft in our riverside space. Check out our Instagram: axethrowingireland 
Dublin Urban Axe Throwing
We offer a private booking  session which lasts for between about 90 minutes (depending on the number of people) for groups as small as 6 people (and up to 60 people), with advance booking only.  Events are lead by your own dedicated 'Axperts' who will coach you on your own set of lanes before running a custom tournament to crown a champion.  See Video above…
This type of event is suitable for Christmas parties, stags, hens or any other private event. On site we have refreshments (herbal tea and coffee) and there is a great wood fired pizza take away 3 mins away… Just order in advance with them and collect on your way into the event.. These events can be held on any day during the week and weekend. Just get in touch with us and tell us how many, what day and what time you would like and we will get straight back to you. Minimum 6 people, €30 per person.
Please note that there is to be no drinking before or during the Axe Throwing…
DUBLIN LOCATION – We are in Johnnie Bongos Brewery, Gaelic St, North Strand, 8 mins walk from Connolly Station. SEE MAP HERE
Wicklow Axe Throwing and Bushcraft
Typically we run events that are either 1.5 hours or 4 hours but we can customise the event length and content to whatever you need:
Woodland Axe Throwing Only (1.5 hours)
Pure simple Axe Throwing –  Raw Fun…
We will give you an Introduction to axe throwing and basic training with our Flying Angel Axes. We will get a few practice throws in so everyone gets the hang of it and then we will run a scored competition. After this we will swap to Tomahawk Axes (bigger) and run another competition… The winner of the combined scores is the Axe Champion and we will provide an underwhelming prize. Finally to round off we will throw the competition large Double Bit Axe.
Minimum 12 people, €30 per person
Viking Bushcraft and Axe Throwing (4 hours)
Axe Throwing is awesome.. so is making fire from flint and steel as the Vikings did… extend you event with a bit of extra activity in the forest..
This is axe throwing as above but we will head into the woods to discover your inner viking and cook your own campfire quesadillas for lunch/dinner. We will provide wild fruit cordial drinks and tea and coffee. Wood activities include; lumberjack log rolling, viking fire making in teams, kelly kettle/fire tea race, coffee break/biscuits. Its a chance to absorb the woodland light, sounds and feel the calm.
Minimum 12 people, €55 per person
LOCATION – In a Secret Woodland near Troopers Town Car Park, Laragh, Wicklow.. Just 1 hour south of Dublin.. SEE MAP HERE
Contact us the form below or send an email to findoutmore@axeclub.ie
Axe Club is a founding member of the World Axe Throwing League and we have been throwing axes since 2010
Went to Kilruddery a few weeks ago and stumbled upon the axe club, myself and my friend had a go, it was the best craic! So good we came back the following weekend with another friend, my sister and my mum! Matt and Heath were great, can't wait to go back!!
We were first attracted by the novelty factor and because it looked like an interesting alternative to traditional types of outdoor corporate team building activity. Because it's so different it was by no means clear who would be good at it. In fact, the athletic types who normally excel in a sporting environment were not necessarily the best. This put people on a new footing with each other and changed perspectives within the team.
We had a pretty large group on a stag and had an absolute blast. Matt and Heath were champions! Thanks guys!